Call: 215-357-0476 | info@sattlerfamilydentistry.com
635 Street Rd Southampton, PA 18966
Restorative & Cosmetic Dentistry
A beautiful healthy smile can be a great asset in your personal and professional life, allowing you to literally "put your best face forward" and conduct yourself with confidence and self assurance.
Modern cosmetic dentistry has made quantum leaps in the past 10–15 years. There are an almost endless range of options to correct virtually any dental concern.
Dr. Sattler has more than 20 years of experience in transforming smiles with the most state-of-the art cosmetic techniques. And because of his broad background in 18 different dental disciplines – from oral surgery and root canals, to orthodontics and dental implants – the vast majority of patients can complete their dental work right in our office, with the same warm and comfortable team.
The practice's Restorative/Cosmetic Dental Treatments include:
For Missing or Damaged Teeth:
Prosthetics (full/partial dentures)
Endodontics (root canal)
Oral Surgery
Crown and Bridge Work
Implants
For Crooked or Misaligned Teeth:
Traditional Orthodontics (including clear ceramic braces)
Invisalign®: The Invisible Teeth Straightening System
For Worn Teeth/Old Restorations:
Cosmetic Bonding
Tooth Colored Fillings
Porcelain Crowns or Onlays
For Discolored Teeth:
Take-Home Teeth Whitening Kits (Dentist Supervised)
Zoom!®: The One-Hour, In-Office Teeth Whitening Program
For Complete Smile Makeovers:
Porcelain Veneers
Dental Implants (to see separate section on Dental Implants, Click Here)
Crowns (Caps)
Schedule your consultation
Contact us about dental treatment. Schedule your initial examination to discuss your tooth loss and how implants can restore your tooth function and your appearance.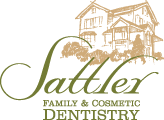 635 Street Rd
Southampton, PA 18966
215-357-0476 | info@sattlerfamilydentistry.com

Hours of Operations
Monday: 8:00AM – 5:00PM
Tuesday: 8:00AM – 8:00PM
Wednesday: 8:00AM – 5:00PM
Thursday: 8:00AM – 5:00PM
Friday: Closed
Saturday: Closed
Sunday: Closed