Call: 215-357-0476 | info@sattlerfamilydentistry.com
635 Street Rd Southampton, PA 18966
Dental Implants
What is a Dental Implant?
A Dental Implant is a permanent, artificial tooth that looks and feels like your own. Implants are recommended when a patient has lost one or more teeth (including the root of the tooth) or has badly damaged teeth that need to be replaced.
Dr. Sattler has extensive experience in correcting missing or damaged teeth with dental implants. The replacement tooth looks, feels and functions just like your own teeth. From an appearance standpoint, implants can immediately give you a brand new smile. But even more important, they can restore your overall dental health.
How Long does the Process Take?
The length of the treatment plan is determined by many factors. Traditionally implant procedure involves placing the implant and then allowing the gum and bone to heal for 3 to 6 months. During this time, the patient's missing teeth are replaced with temporary teeth that look beautiful and feel comfortable. In most cases, this is the recommended process for replacing individual or several missing teeth.
SameDay Smile® is available for those patients whose lifestyles do not allow for the typical removable dentures or appliances needed during the healing process of a traditional implant. SameDay Smile® is a proprietary process which is done in conjunction with Robert Levine, DDS, Founder of the PA Center for Dental Implants & Periodontics. This process can create beautiful smiles in record time and give patients new teeth in a single day. (Click here to learn more about the PA Center for Dental Implants & Periodontics.)
Schedule your consultation
Contact us about dental treatment. Schedule your initial examination to discuss your tooth loss and how implants can restore your tooth function and your appearance.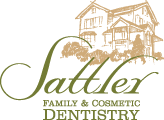 635 Street Rd
Southampton, PA 18966
215-357-0476 | info@sattlerfamilydentistry.com

Hours of Operations
Monday: 8:00AM – 5:00PM
Tuesday: 8:00AM – 8:00PM
Wednesday: 8:00AM – 5:00PM
Thursday: 8:00AM – 5:00PM
Friday: Closed
Saturday: Closed
Sunday: Closed